How One Man Escaped the Streets of Seattle
(and took a bunch of others with him!)
Read the True Homeless Story of Andre "Arkansas" Starks
Get Your Free Copy Today
How does homelessness happen? The complicated answer is, it's different for every person.
For Andre Starks, it happened very fast. He fell into a deep period of despair, addiction, and an emotional deadness where he simply turned off the world. He cared about nothing and no one – including himself.
There was no rescuing this man from the streets, because he didn't want to be rescued. He wanted to disappear.
But then, something happened. Andre met a group of people who changed his life forever, still to this day.
How does homelessness end? That's also complicated.
Now, you can read a tragic but inspiring homeless story of how it began and how it ended for one man, and then for many more whose lives he touched along the way.
This is a story of loss, love, service, and activism.
Fill out the form and get your free copy of
Vision Valley Victory
When you read Andre's story and meet the people who helped him escape homelessness, you'll gain insights into homeless life and why it's so difficult for many to get back on their feet. Andre's story will show you:
How a normal man can become homeless – the power of personal loss
How addiction prolongs homelessness even without causing it
Why isolation is the worst part of being homeless, and what you can do to change that
What a "crazy" group of volunteers did to get Andre's attention and propel him forward
A real life example of why 'housing first' doesn't work for most chronically homeless people
The impact of true change – the jaw-dropping number of people Andre helped escape homelessness, and why he cared
Inventive ways Andre served other homeless people to restore their self-worth
Details of how Andre led his close friend off the streets
The small moment when Andre realized how much he had changed – on the inside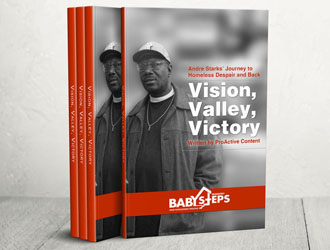 ---
Vision Valley Victory.
Get your free copy of Andre Starks' journey in and out of homelessness.
Simply fill out the form, and get access to this true story eBook.

If you're looking for some real life insights into homelessness, Andre's homeless story will blow you away.
If you need some fresh hope that people can change, Andre's story will restore your soul.
If you want an example of how to help homeless people that doesn't cut corners or make it sound easy – this story doesn't hold anything back. It's as real as it gets.
Fill out the form to the right and get your free copy of Andre's story.
21 pages has never rocked your world like this.