How You Can Help the Homeless in Seattle
Businesses, Churches, and You Can Invest in Relational Discipleship
Do you care about people who are homeless? Some have been homeless for years. Others for just a few months. All have hard stories. And deep down, we believe every one of them wants someone to help them. But first, they just want to be noticed.
You can be the friend who makes the difference. Or, you can work behind the scenes to support the volunteers who specialize in building relationships with homeless people.
But without committed volunteers to go out on Saturdays to serve food and start conversations, and without the volunteers to support them, the one night homeless count will just keep going up. More homeless people will believe no one cares and that their lives don't matter. They'll believe God has rejected them, just like people have.
You can renew their hope! You can help the homeless try again.
For individuals, churches, and businesses who want to help the homeless in Seattle and beyond, look below for ways you can get involved.
Here's what you can do:
---
Individuals
Read a True Story of Escaping Homelessness
Andre Starks is Babysteps' greatest success story. His life shows what's possible when a few people pour their lives into a homeless person's.
Not only will Vision Valley Victory just plain inspire you, it will show you the Babysteps approach in action and the lifelong impact you can have on a person's life when you join us.
If you've never talked to or known a homeless person and don't understand how people end up on the streets – you need to read this short eBook!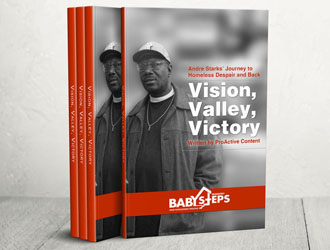 ---
Vision Valley Victory.



Get your free copy of Andre Starks' journey in and out of homelessness.
Simply fill out the form, and get access to this true story eBook.

Help with Relational Meal Events:
We need 10-15 people to make these events happen. Our goal is to do one per week. Right now we're doing two per month. Here's what you can do:
Shop for the food

Prepare food beforehand

Coordinate logistics, like getting food, items, and people to the event

Serve meals to the homeless on Saturdays

Initiate conversations and relationships
This is the simplest way to see what we do and try us out.
It's a one-time commitment.
Attend a Volunteer Training
You'll be amazed at how much you'll learn at one of these. We've gotten requests for our material from all across the country.
You'll learn specific communication skills unique to homeless people, body language, and tone. You'll learn questions to ask and when to be quiet. It's quite possibly the single best training you'll ever take. We have some pros on our team with job experience, education, and expertise.
Multimedia Productions:
Photos and Videos – Anyone with photography, video production or editing experience is welcome to help create more of this content for our website and other outreaches.
Web design – We have a nonprofit copywriter specialist, but we are limited in our design capabilities and could use some knowledgeable help for specific items.
Storage Space:
Have extra space somewhere you're not using? We need a small place to store some of our donated items and food preparation materials (like plates, forks, etc)
Reach out to Corporate and Business Donors:
Are you good on the phone? Like to rally people to get involved? Contact restaurants and stores on our behalf and ask if they want to donate food items or meals.
Disciplers/Mentors:
Do you want to directly impact the life of a homeless person? Do you have strong relational skills? We need (really need!) more people to follow up and build long term relationships with homeless people. Each person can only handle so many, so the more disciplers and mentors we have, the more homeless people we can help. Eventually, we plan to make these paid positions.
Spread the Word on Social Media:
It doesn't take much, but it can make a big difference. Tell your friends about us. Send them to our website and our Facebook and Twitter pages. Tell them about Vision Valley Victory – the true homeless story you just read. (Missed it? Go back to the top of this list!)
---
Churches and Organizations
Every Saturday, we want to hold a Relational Meal Event.
At these Events, we feed over a hundred homeless people and try to initiate conversations and relationships with them.
Our goal is to have a different church or organization sponsor and run an Event one Saturday each month.
This would mean they rally their people and get a group of 10-15 who can perform all the tasks listed up above under Relational Meal Events.
Can your church or organization take a Saturday?
---
Businesses
We want to partner with you to help improve the streets of Seattle, Highline, Renton, and the rest of King County. Here's what you can do:
Donate funds to help Babysteps reach more homeless people. We'll list your business on our website as a generous donor

Donate food or gift cards to grocery stores

Offer to prepare meals for one of our Saturday events
For everyone who wants to help the homeless – if you want to learn more please contact us and someone will get back to you shortly.